Gwen Jorgensen has given a detailed rundown of her impressions following her first triathlon race since October 2016 at the weekend, saying that by and large she was happy with her performance..
The Olympic champion from 2016 has launched a dramatic bid to make the USA squad for Paris 2024, with particular focus on the Mixed Team Relay, and it all started with third place in the Oceania Triathlon Cup Taupo in New Zealand, which came just four months after the birth of her second child.
From the outside it appeared to be an encouraging comeback and that was echoed as she talked through how it all went on her YouTube channel (you can watch the video which is embedded below).
Summarising the display, she said: "I think I raced to my current fitness level which I was happy with. Because that doesn't always happen – back in my triathlon days and more especially in my running career, the first race of the season wasn't always up to where my fitness was."
Swim awareness will take time
Jorgensen was out of the water inside the top 10 but she admitted: "I wasn't very happy with my swim, I think that was probably the one area of the race where I maybe underperformed based on where my training was. But it wasn't horrible.
"I'd say I was most nervous for the swim and the transitions. I didn't have that awareness in the water. I couldn't really tell where I was – there's stuff you need to get used to that I haven't done for seven years.
"T1 wasn't great and if USA Triathlon are watching I'm going to improve that for my Mixed Team Relays, I promise! I lined up last and it was a very short run from the beach to where the transition was so I had like five metres to take my wetsuit off and get into transition. I was wearing a wetsuit from back in my triathlon days and I'm a little bit bigger right now and it got a little stuck – just stuff that I need to work on I guess."
'Fabulous' bike course
That gave her ground to make up at the start of the bike leg but she was encouraged by what unfolded, explaining: "Going into the bike I wasn't even in the second chase group so I had to chase to get into that.
"But the first lap, I felt really good on the bike and strong, which was nice. Our pack started working a bit and once we could see the front group we caught them pretty quickly after that."
She described the Taupo loop as "the most fun bike course" she's raced on, adding: "It was a really flow-y course with nice corners that you could take at speed. There were ups and downs but you could just flow into them – it was just a really enjoyable course, similar to a crit course, it was fabulous."
Run a work in progress
Jorgensen's run was her lethal weapon in triathlon back in 2015 and 2016 but she acknowledges it's very early days thus far – indeed she revealed her first non-stop training run didn't happen until last month.
She clocked 18:31 as she took third place behind New Zealand pair Nicole Van Der Kaay and Ainsley Thorpe, of which she said: "I performed in my running very similar to what I've trained. I thought I could run faster but I haven't really done fast-paced work yet. I've been slowly building up my run mileage.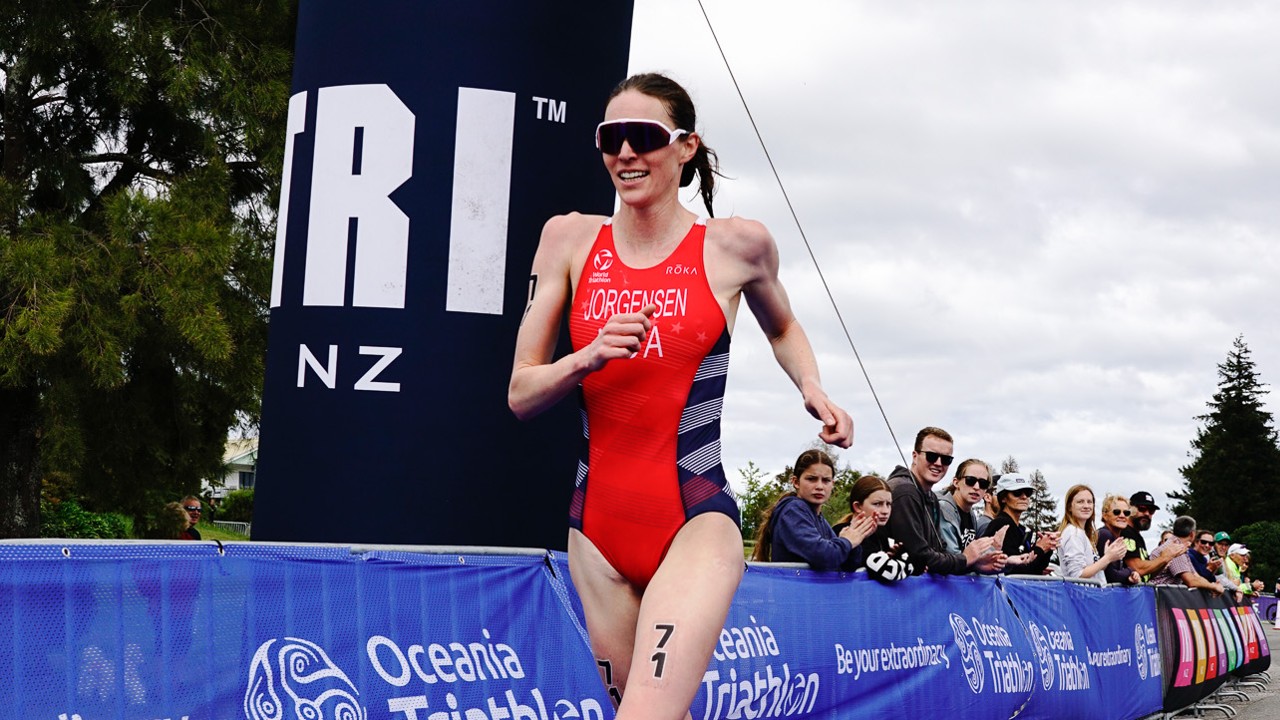 "I was disappointed with the run when the race first ended but now that I've had a day to think about it, I actually think that's just where I am with my run right now.
"Technically the protocol now post-partum is you're not supposed to run until 12 weeks. I got clearance at six weeks but it started with a two-minute run and then a five-minute walk. I didn't do my first continuous run until early January.
"I started biking the earliest – I did like a 20-minute bike with average watts of less than 100 a little after four weeks post-partum. And then I did swim / bike / run all in one day about two weeks ago so I'm excited for more of that."
All of which underlines what progress she's made in a short space of time, with this ice-breaker exactly that ahead of more significant aims.
Her and the family will now stay on in New Zealand ahead of her first real target, the World Triathlon Cup New Plymouth on March 25th.