US corporations have mounted a fierce counterattack against the union drives at Starbucks, Amazon and other companies, and in response, federal officials are working overtime to crack down on those corporations' illegal anti-union tactics – maneuvers that labor leaders fear could significantly drain the momentum behind today's surge of unionization.
The National Labor Relations Board (NLRB), the federal agency that polices labor-management relations, has accused Starbucks and Amazon of a slew of illegal anti-union practices, among them firing many workers in retaliation for backing a union. Nonetheless, many workplace experts question whether the NLRB's efforts, no matter how vigorous, can assure that workers have a fair shot at unionizing.
"We're seeing the same situation over and over – workers going up against billionaires and billion-dollar companies with an endless amount of resources while our labor laws are far too weak," said Michelle Eisen, a barista in Buffalo who helped lead the early unionization efforts of Starbucks in that city. "We're all fighting for the same thing against different companies. We're all in the same boat. No one denies that there are a lot of obstacles to overcome."
"The labor board is doing its job with the limited resources it has," she added. "But Starbucks continues to break the law flagrantly." The union asserts that Starbucks has engaged in illegal retaliation by firing 150 pro-union baristas and closing a dozen recently unionized stores.
Echoing many union leaders, Eisen says US labor laws are woefully inadequate because they don't allow regulators to impose any fines on companies that break the law when fighting against unionization. Starbucks and Amazon deny firing anyone illegally or violating any laws in their fight against unionization.
"These workers were supposed to be able to get together without fear of retaliation," said Lynne Fox, president of Workers United, the union that workers at more than 280 Starbucks have voted to join. "But companies, including Starbucks, have determined that the penalty for retaliation is minimal – and much more appealing than allowing workers to unionize. Violating workers' rights has simply become part of the cost of doing business." Labor leaders complain that the penalty imposed for illegal retaliation is often just an order to post a notice on a company's bulletin boards saying that it broke the law.
Newly unionized workers are also frustrated and angry that efforts to reach a first contract are taking so long, with some unions asserting that companies are deliberately and illegally dragging out negotiations – an assertion the companies deny. Workers won breakthrough union victories at Starbucks in December 2021, and the next year saw several other organizing victories. REI workers had a successful union vote in March 2022, Amazon in April, Apple in June, Trader Joe's in July and Chipotle in August, but none of those companies have reached a first contract.
The extraordinary recent wave of unionization that corporate America has faced over the past year has been met with what union supporters say is an equally extraordinary wave of union-busting that has slowed and even stopped some unionization efforts.
Shortly after workers at a Chipotle restaurant in Augusta, Maine, petitioned for a unionization vote in the hope of becoming the first Chipotle in the US to unionize, the company shut down the store. The NLRB has accused Chipotle of illegal retaliation and sought to order the fast-food chain to reopen the store. Chipotle says the closing was for legitimate business reasons.
Brandi McNease, a pro-union worker at the Chipotle in Augusta, said: "They closed it down because we were going to get our vote and they were going to lose. It's much easier for a multibillion-dollar corporation to face whatever the consequences are of that then to allow a union into one of their stores."
The NLRB has accused Apple of illegally spying on and threatening workers. The company's anti-union efforts helped pressure Apple store workers in Atlanta to withdraw their request to hold a unionization election, although workers at Apple stores in Towson, Maryland, and Oklahoma City have voted to unionize.
Trader Joe's closed its one wine shop in New York City days before that shop's workers were to announce plans to seek a union election. The workers have accused the company of shutting the store to quash the union drive and retaliate against the workers. Trader Joe's says it didn't shut the store because of the employees' organizing efforts.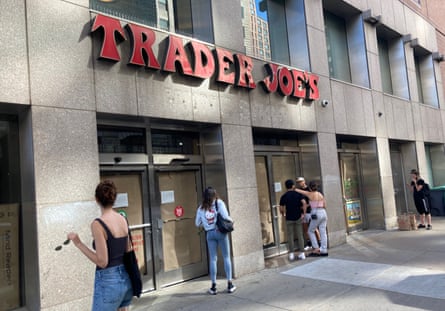 On 17 February, a day after employees at a Tesla plant in Buffalo announced plans to unionize, Tesla fired dozens of workers there. Union supporters complained to the NLRB that Tesla dismissed 37 workers "in retaliation for union activity and to discourage union activity". Tesla said the terminations had nothing to do with the union drive and were part of its regular performance-evaluation process.
The NLRB has brought 75 complaints against Starbucks that accuse it of more than 1,000 illegal actions. Federal judges have ordered Starbucks to reinstate numerous pro-union baristas who they say were fired illegally. The labor board has accused Starbucks of refusing to bargain with workers at 21 stores in Oregon and Washington state. The union asserts that Starbucks is deliberately dragging out negotiations to dishearten union supporters. Starbucks representatives have walked out of dozens of bargaining sessions, refusing to talk so long as union negotiators insist on letting other union members use Zoom to watch the sessions.
The NLRB has accused Amazon's CEO, Andy Jassy, of illegally coercing and intimidating workers by saying they would be "less empowered" if they unionized. NLRB judges have ruled that Amazon fired several pro-union workers illegally, and the board recently accused Amazon of unlawfully terminating one of the most effective organizers at its JFK8 warehouse on Staten Island, where the Amazon Labor Union won a landmark victory for the warehouse's 8,300 employees last 1 April.
Amazon has filed a series of challenges to overturn the union's Staten Island victory in the hope of not having to recognize or bargain with the union. In January, an NLRB judge upheld the union's victory, but Amazon said it would appeal.
"We know they plan to appeal and appeal and drag things out," said Christian Smalls, president of the Amazon Labor Union. Smalls voiced frustration that nearly a year after the Staten Island workers voted to unionize, there have been no contract talks.
Benjamin Sachs, a labor law professor at Harvard, admits to some surprise that several supposedly progressive companies are using hardball anti-union tactics. "What we have is new economy companies using the old, anti-union playbook on a national scale and in a way that people are paying attention to," Sachs said.
"It's not new, but it's more prominent: firing union organizers, threatening to close stores, closing stores, not bargaining, holding captive audience meetings, selective granting of benefits. To observers of labor, this has been going on for a long time. What's different is these companies that hold themselves as different and progressive – they're proving they're not. There's a dissonance between these brands' progressive image and their old-school union-busting."
Amazon has repeatedly denied any illegal anti-union actions. It said: "We don't think unions are the best answer for our employees" and "our focus remains on working directly" with our them "to continue making Amazon a great place to work". Amazon argues that the union's win on Staten Island "was not fair, legitimate or representative of the majority" and should therefore be overturned, maintaining that the union illegally intimidated and harassed anti-union workers and illegally distributed marijuana to win support.
Starbucks denies that it fired any pro-union baristas unlawfully, saying that those workers were dismissed for misconduct or violating company rules. The company denies that it is deliberately dragging out negotiations, saying: "Counter to the union's claims, Starbucks continues to engage honestly and in good faith while ensuring actions taken align with decades of case law and precedent." It added: "We've come to the table in person and in good faith for 84 single-store contract bargaining sessions since October 2022." Starbucks acknowledges that it has walked out of bargaining sessions because the workers "insist on broadcasting" the sessions "to unknown individuals not in the room and, in some instances, have posted excerpts of the sessions online".
Leaders of the Starbucks union say they have repeatedly pledged that the workers would not broadcast, record or post excerpts of the bargaining sessions. Furthermore, they ask why Starbucks refuses to let union members watch the negotiations by Zoom when it allowed that practice during the pandemic and so many other companies allow the use of Zoom during negotiating sessions. For its part, Starbucks has accused the union of failing to bargain in good faith, a claim the union says is ludicrous.
One study found that after workers won union elections, 52% of the time they were without a first contract a year later and 37% of the time without one two years later. Many companies drag out contract talks as long as they can in order to dishearten workers and show that there's little to gain by unionizing and because they know they save money on wages and benefits by delaying – or never reaching – a first union contract. Moreover, many companies prolong contract talks in the hope that union members will grow frustrated with their union and vote to decertify it.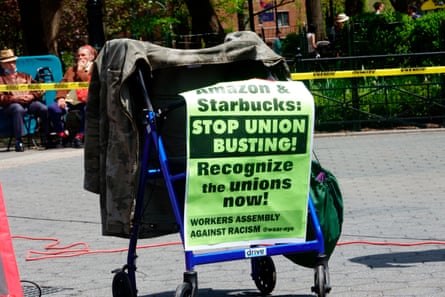 Sarah Beth Ryther, a leader of the successful effort to unionize a Trader Joe's in Minneapolis, said the retailer is moving far slower than she hoped in negotiations. "I have said it was like writing a novel. We were on page one for a long time, and now we're finally on page two," Ryther said. "It's just folks with very little experience who have organized an independent union, and to face these union-busting tactics, it's hard. We're not being paid a thousand dollars an hour like some TJ's lawyers. We do this because we want to help our fellow workers."
Even if the NLRB rules that a company broke the law by negotiating in bad faith to drag out negotiations, federal law doesn't allow the labor board to order management to reach a contract. "Even if the NLRB issues a complaint about bad faith bargaining, it takes a long time to handle those cases. Any meaningful order is a year down the road," said Wilma Liebman, who headed the NLRB under Barack Obama. "The remedies take too long and they're too weak. The board can't order parties to reach an agreement or make concessions."
Liebman pointed to the big issue that labor organizing faces right now. "Can the unionization surge be sustained by continued growth?" she asked. "Otherwise it's going to fizzle. This is the year that's kind of make or break."
Under federal law, employers can't be fined for illegal delays or bargaining in bad faith. The proposed protecting the right to organize (Pro) act sought to overcome lengthy delays by providing that if the two sides failed to reach a contract within 120 days of a new union's being certified, a panel of arbitrators should be appointed to decide on the terms of a first two-year contract. The Pro act would also allow for substantial fines against employers that violate the law when fighting unions. The House of Representatives approved the Pro act in March 2021, but, facing a filibuster and unanimous Republican opposition, the legislation went nowhere in the Senate.
Sachs says corporations have sizable incentives to violate the law when battling against unions because the National Labor Relations Act doesn't provide for any fines for illegal actions. "We need to fundamentally change the incentive structure facing employers during union drives," he said. "You can change the incentive structure in different ways. Consumers can do it if there is a national boycott of Starbucks or Apple or Chipotle or REI. That would have a huge impact. The other way to change the incentive structure would be to have massive monetary damages for anti-union violations. That would require not only legislative change, but the courts to order damage awards – and that would be a slow process."
Eisen, the barista in Buffalo, voices keen dismay that Starbucks keeps ratcheting up the pressure against the union drive. Arguably its most effective strategy to discourage unionization was not the firings or store closings, but when its CEO, Howard Schultz, announced that the company would give certain raises and benefits to its nonunion workers while denying them to workers at its unionized stores. The NLRB has brought a complaint asserting that this Starbucks policy illegally discriminates against union members.
"One of the things we need to win is public pressure," Eisen said. "Can we let billionaires and billionaire companies continue to bully their way out of union campaigns? That's essentially what is happening. It's not fair. We need as much help as we can get. We need the public to recognize that these companies are not as good as they say they are."
The anti-union tactics have taken their toll. Partly because Starbucks' aggressive anti-union efforts have discouraged and frightened many workers, the number of petitions for union elections at Starbucks stores has dropped from 71 last March to about 10 per month recently. Trader Joe's workers in Boulder, Colorado, withdrew their petition for a unionization vote a day after they filed charges accusing the retailer of illegal intimidation and coercion. With highly paid anti-union consultants on hand to press workers to vote no, the Amazon Labor Union lost a unionization vote at a warehouse outside Albany, New York, and following that loss and facing an anti-union campaign, workers at an Amazon warehouse in Moreno Valley, California, withdrew their petition for a union election.
"That comes with the territory, but that's what we signed up for as organizers," said the Amazon Labor Union's Smalls. "We know this is a marathon not a sprint. In the words of Mother Jones, you fight like hell. That's what we're doing right now, fighting like hell."